Medical Review Process 2015
Death Certification in Scotland has changed as from 13th may 2015
An independent review system, of the Medical Certificate of Cause of Death (MCCD/ Form 11) will be in place from 13 May 2015, where a proportion of cases not reported to the Procurator Fiscal will be randomly selected at the point of registration (or at the time of certification of death when MCCDs are completed electronically).
Rather than having Medical Referees only checking cremation cases the independent Medical Reviewers, all of whom are experienced doctors, employed by Healthcare Improvement Scotland, will scrutinise cases both for burial and cremation. The Medical Reviewers will review a random sample of MCCDs provided by National Records of Scotland, for accuracy, and work with the medical profession to improve standards in the completion of the MCCD.
The registration process will be put on "hold" until the review is complete. If the MCCD is not selected for review a Form 14 will be issued as normal. This will allow burial or cremation to go ahead.
It is estimated that 25 per cent of deaths are investigated by the Procurator Fiscal in Scotland, and are excluded from the new review system. Stillbirths are also excluded from the new review system.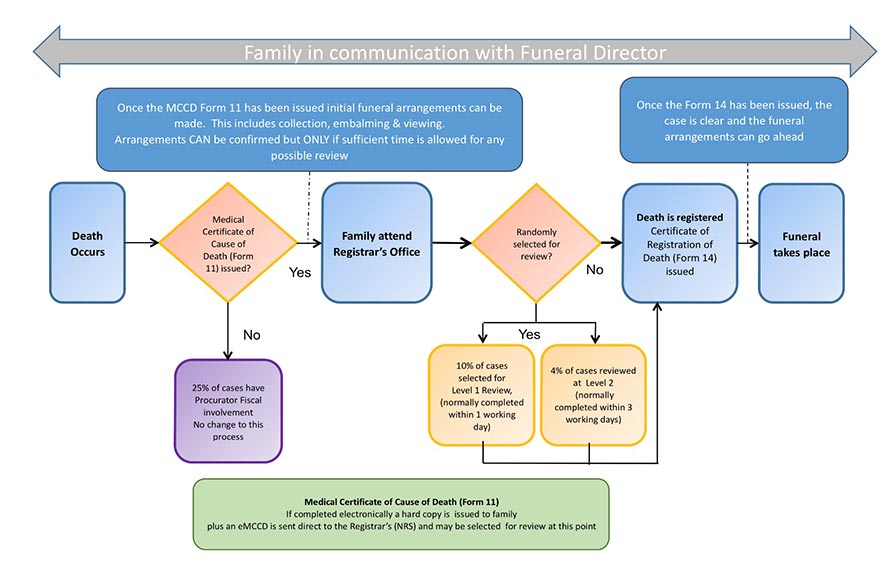 10 per cent of the remainder of MCCDs will go through randomisation for a review (around 4,000 deaths per year) at Level 1. This involves scrutiny of the MCCD and a conversation with the doctor certifying death or a member of the clinical team with access to the clinical records of the deceased. A Level 1 review case may take up to one working day to review
Around 1,000 MCCDs will be randomly selected for a Level 2 review which is more comprehensive and involves, in addition to the activities under Level 1 review, looking at the relevant clinical records. It is anticipated that a further 1,000 MCCDs will be reviewed "for cause", either due to significant trends or requests from "interested persons" specified in legislation. A Level 2 review case may take up to three working days.
When the review of the MCCD has been completed the registrar will be instructed to issue Form 14. The registrar will telephone the family (informant) to ask them to collect Form 14. However, it can be posted to the family (informant), or the funeral director can collect Form 14 from the registrar. Alternatively the registrar may be able to scan and then email the form to the funeral director.